Skip to Content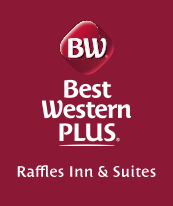 Disneyland® Resort Packages Anaheim CA
Explore Mickey's Magic
There's no better way to experience the imaginative charm of nearby attractions than with one of our Anaheim, CA Disneyland® Resort packages. Whether your group prefers the whimsey of Mickey's Toontown® Area, the visions of Tomorrowland® Area, or the classic charm of Main Street, U.S.A.® Area, you can find it all at Disneyland® Resort.
Upcoming Events at Disneyland® Resort
From kid-friendly holiday celebrations to seasonal specials, there's always something worth checking out at the Disneyland® Resort parks around the Anaheim area.
See Calendar
Get Your Tickets
Best Western Plus Raffles Inn & Suites Anaheim offers tickets for Disneyland® Resort right at the front desk. Or, purchase your passes ahead of time online!
Learn More
Stroll Through Downtown Disney®
Head to the Downtown Disney® District and check out lively restaurants, curated shops, and other exciting attractions that the entire family can enjoy.
Group Requests
If you're planning a trip to Disneyland® Resort with a larger group, please use the form to get in touch with our team and make the perfect plans for your group activity.
Get Information